Free CE Webinar
Join us for a Q&A with Brenda Terzich-Garland webinar on Thursday Oct 20 12 - 1:30 PM (ET) 
This event is FREE and worth 1.5 BACB Learning CEUs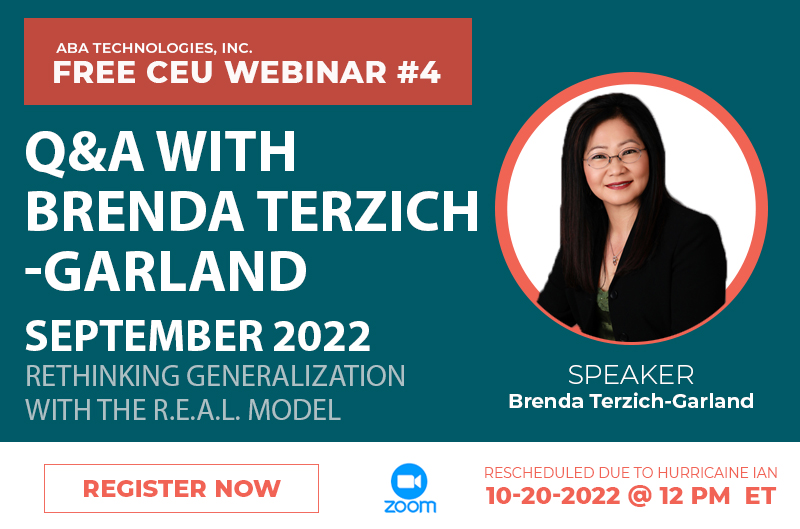 The discussion will be shaped by attendees in this interactive Q&A event. Brenda Terzich-Garland, author of the new book, "The R.E.A.L. Model: Rethinking Generalization" and presenter of ABA Tech's CE program, "Rethinking Generalization with the R.E.A.L. Model" is interested in answering your questions.
This event may be particularly helpful to individuals who have completed/are enrolled in the CE program, individuals who have attended one of ABA Tech's previous webinars with Brenda, or anyone who wants to engage in discussion related to training for generalization. If you were unable to attend one of our previous webinars with Brenda, you can watch the recordings on ABA Tech's website.
Previous Webinar Recordings
Limited Time Specials
Special Price
List Price: $399; Special Price: $299
Course Access: 12 months from date of purchase
Group Discount
Groups of five or more who would like to register for this course at the same time will receive a 30% discount on the list price. 
Book Discount
Students who register for the course will receive a code via e-mail to purchase the R.E.A.L Model book (both the printed and digital versions) for 25% off. Email with discount code will be sent after registering for the course.
About The Book
Are you a practicing Behavior Analyst or a professional who provides ABA treatment for children on the autism spectrum? Many barriers compete with the child's ability to generalize concepts, skills, and language taught during intervention and can vary as much as the disorder itself. Planned curriculums help to identify what to teach after an appropriate behavioral assessment, but they lack in guiding the practitioner to plan and teach for generalization systematically.
This new book by Brenda J. Terzich-Garland (M.A., BCBA) of Applied Behavior Consultants, Inc, addresses the gap in available materials to train other clinical staff, whether behavior technician implementers, behavior analyst supervisors or other support roles vital to the treatment effectiveness for ABA intervention with regards to teaching for generalization. 
ABA companies vary greatly in their approach to training new or seasoned behavior analyst practitioners— particularly around how to plan and teach for generalization for children with ASD. The R.E.A.L. Model described in this book is for any practitioner providing ABA services who need to move beyond a conceptual understanding of generalization. It should be used as a guide to plan and systematically build in generalization while progressing intervention programs within intensive behavioral treatment.