BOOST Exam Prep
Designed by experts with students in mind, BOOST products aim to help students identify their strengths and weaknesses, build knowledge in critical verbal competencies, and overcome barriers and anxieties to succeed in their path to BCBA certification and beyond.
Why Choose BOOST:
Content written by experts

Overall and automatic content area scores

Meaningful practice with exam-like questions

Specific feedback to aid in learning
BOOST your knowledge!
BOOST your confidence!
BOOST your career with
ABA Tech BOOST Exam Prep!
Access: 2 months from time of registration
 
MOCK EXAMS (A & B) (Click for info)
BOOST ABA Exam Prep offers two unique mock exams for individual purchase: Mock Exam A and Mock Exam B. Both mock exams are full-length (175-question) exams designed to approximate the certification exam. All questions are written following proper test writing rules by content and test writing experts and undergo continuous review to ensure quality. With overall and content area scores and detailed question-specific feedback, our exams help you assess your current knowledge level and improve your future score.
Access: 2 months from time of registration
Access: 4 months from time of registration


BOOST Mock10 (click for info)
BOOST Mock10: Mock Exams + Practice Questions
BOOST Mock10 offers over 600 practice questions across two unique, full-length mock exams, and additional content area-specific practice questions. BOOST Mock10 allows you to obtain a baseline measure of your performance, practice by content area as you study, then test again to measure your progress with a post-test, and then test for generalization.
COMPONENTS
Mock10 Pretest: Full-length mock exam with overall and content area scores.

Content Area Study Modules

Digital fluency flashcards.

Three, 10-question practice sets (270+ questions total) with score and item specific feedback.

EZ Study Sheets for important and difficult topics.

Reading references.

Mock10 Post-test: Full-length mock exam with overall and content area scores and detailed question specific feedback.

Mock10 Generalization Exam: Second unique full-length mock exam with overall and content area scores and detailed question specific feedback.
Access: 4 months from time of registration
Access: 6 months from time of registration
 
Bundle & SAVE $49 (Click for info)
BOOST Mock Exam + BOOST Mock10 Test Prep Bundle (a $244 value) for $195
For those wanting more assessment and practice, the BOOST bundle includes the BOOST Mock Exam A and Mock10. Enjoy more content for longer and at a discounted price!
Access: 6 months from time of registration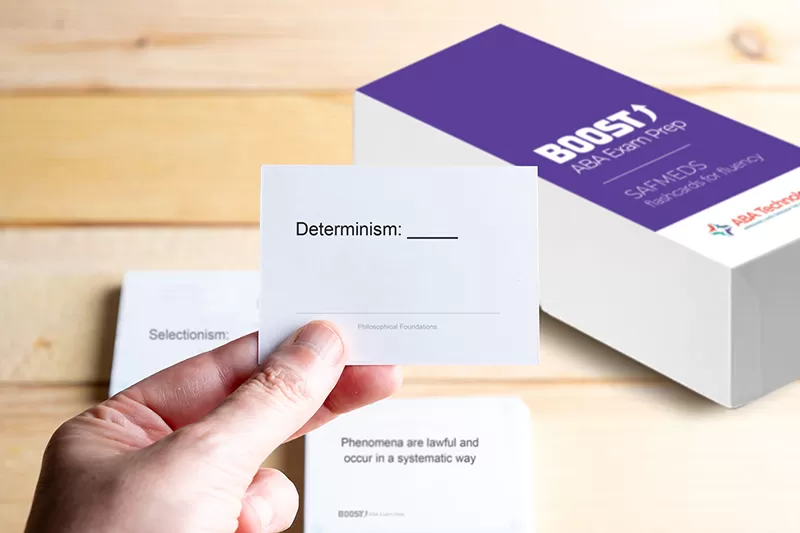 BOOST SAFMEDS Flashcards
Over 450 SAFMEDS fluency flashcards cover essential ABA content from the 5th BACB® Task List and 6th edition BACB® Test Content Outline. Cards are expertly designed to help students build a strong and fluent foundation.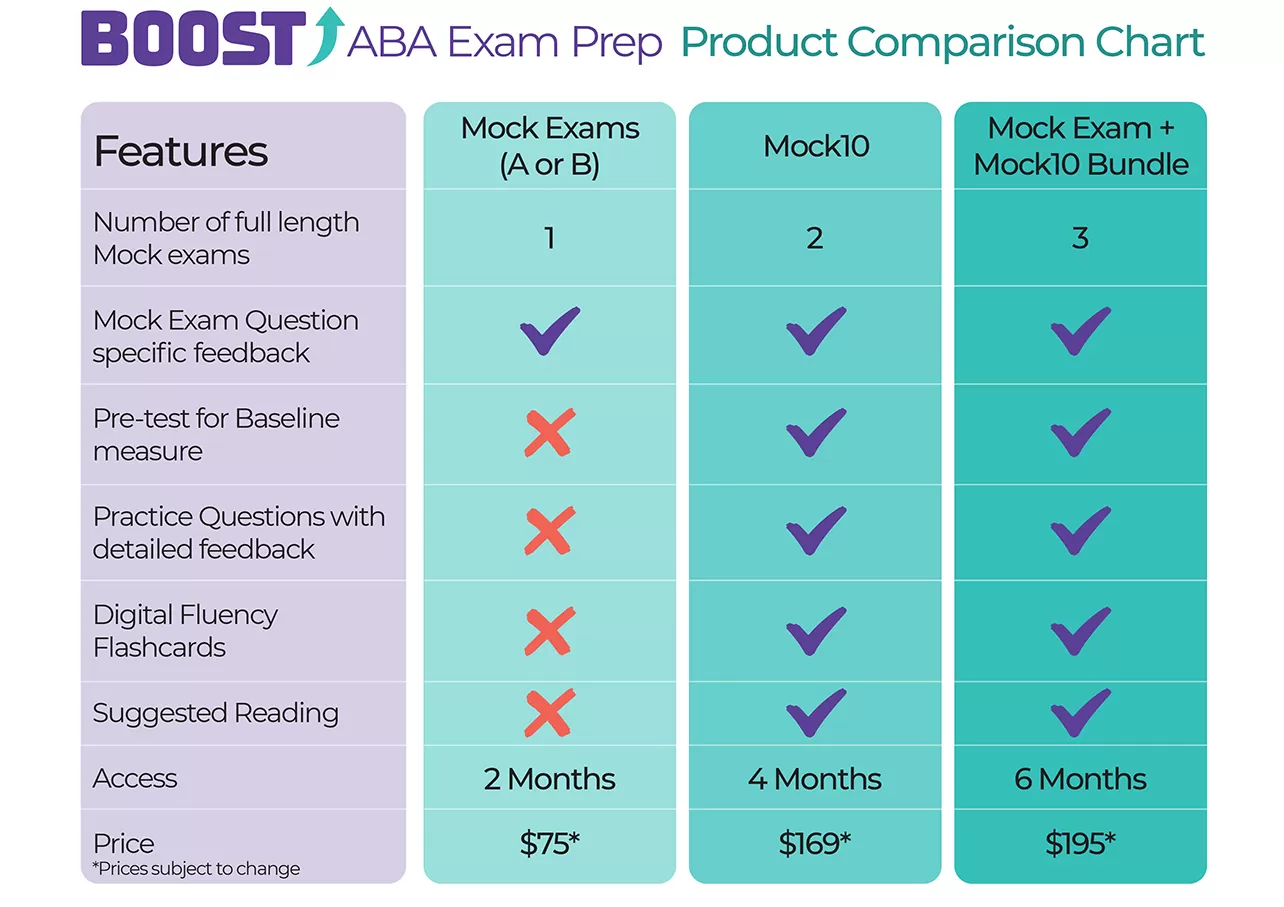 The BOOST philosophy is to build your behavioral repertoire to build your career. Our goal is more than simply preparing you for a single high-stakes certification exam. The BOOST philosophy strives to set you on the path to a long and successful career as a behavior analyst.
Trusted Source
Over 25 years of experience helping students prepare for certification

We haven't JUST passed the exam ourselves; we've been preparing students successfully to do so for decades.

Over 20k exams delivered to date
Instructed over a quarter of a million individuals in-person and online since 1997
Proven experts in test development, construction, and continuous improvement through item analysis 
Join Our Private Facebook Group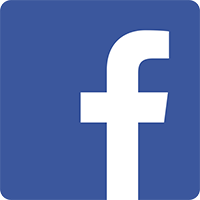 The BOOST ABA Study and Support Community offers free practice questions, study content, and a safe place to ask questions and clarify your understanding. We encourage everyone to keep asking until you "get it!" Some of these ideas can be challenging, and we have all been there, so we know many of the pitfalls and obstacles that can stand in the way of gaining a full grasp of this natural scientific view of human behavior. Hopefully, we can also have some fun while geeking out over the ins and outs of behavior analysis. We really do enjoy helping people gain a fuller understanding of the power and beauty of this science.
Task-to-Course Tracker Free Download
Originally designed for our ABA Online students to track tasks by course and unit, this resource can help all students organize their study materials by task, course, and Cooper text chapters.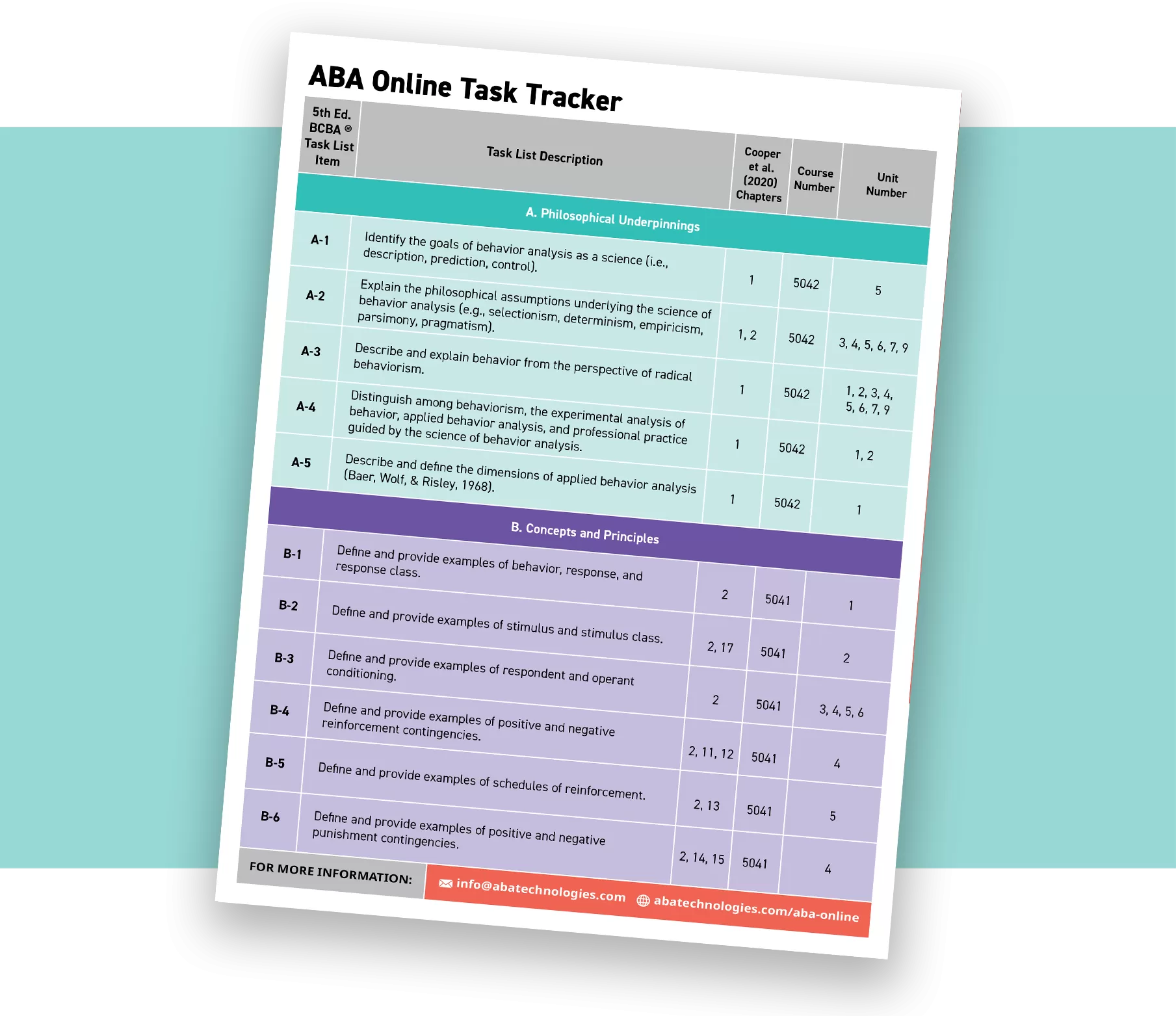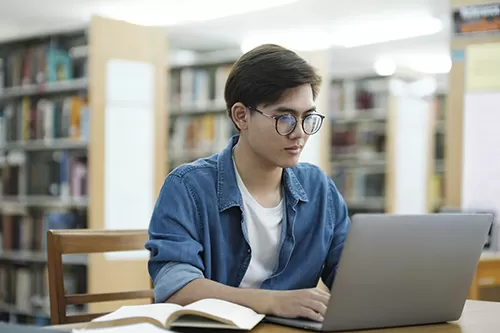 University and Organizational Partnerships
ABA Technologies has partnered with universities to provide instructional content, instruction, and test prep for more than 15 years. Our goal is to assist faculty and supervisor in meeting goals for their programs through off-the-shelf products, and semi or fully-customized products and services.
Contact us for more information.
ABA Tech BOOST offers:
For universities, organizations, or supervisors with groups of students, group discounts are offered for off-the-shelf products, Mock Exam, and Mock10. Contact us for a quote.
Private cohorts with or without customization
Private cohorts of Mock Exam and Mock10 allow instructors and supervisors to group their students into a single course and monitor performance. These courses may be customized visually to include university or organizational images on the sign-in page. Additional customization of course dates, criteria, components, etc. is available within each course.
Embedding Mock Exam, Mock10 or other custom components into university programs.
Our BCBAs are not just experts in educating students in behavior analysis, but also know university systems. We can help you embed our existing test prep products or custom components into your university course(s).
Custom mock exams and courses
Tailor-made mock exams, final program exams, and review courses to meet program goals.
Facilitator-lead guided review sessions
Tailored assessment and guided review session(s) with experienced instructors from ABA Tech.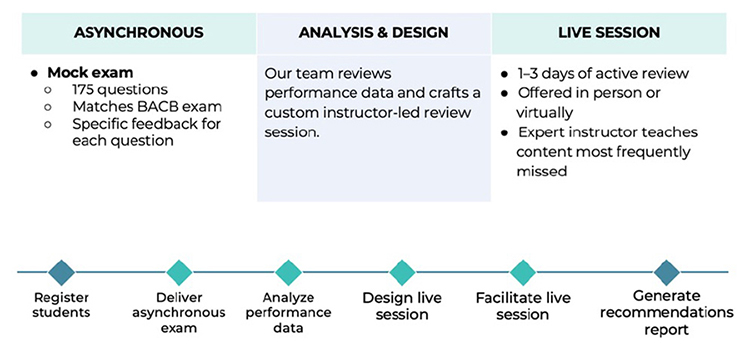 Experts in behavior analysis, instructional design, and technology work with you to evaluate student strengths and weaknesses and program needs to develop a plan to meet your goals.
Additional services tailored to meet program goals.
Contact us to learn more and to discuss how we can help you meet your program or organizational goals!

Tell us what YOU would like.
Use the form at the bottom of the page to tell us what BOOST ABA Exam Prep products you'd like to see.
Check back regularly for new products in the future!
 
Improving Lives Through the Science of Behavior.
Stay up-to-date with new CEUs, special offers, blog posts, and more.

BACB Approved Continuing Education (ACE) Provider
ABA Technologies, Inc., is an approved Type-2, continuing-education provider through the Behavior Analyst Certification Board.