OBM Specialist Certificate
Register 
Image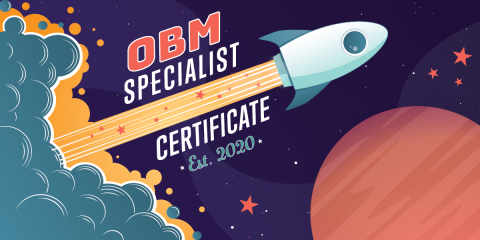 Student Reviews 
Kelley says: ⭐⭐⭐⭐⭐
I like the pace, the activities, format, and mixture of drag and drop and videos. LOVE the  Cuisine example. I like the different voices. 
---
Sara says: ⭐⭐⭐⭐⭐
My favorite aspect of the course was the RASCI method. This was particularly interesting to me because whenever projects are implemented in my current workplace there would be only a big meeting about it and everyone else is so focused on their own job that there wouldn't be much oversight. As a result most projects are left halfway. I like how the method enables every participant to agree to an outcome that complies with requirements set by management.
---
Megan says: ⭐⭐⭐⭐⭐
I enjoyed the course layout and the variety of ways the information was presented. It was good to have exemplars from different industries. The modules were easy to access and see what was completed and what was yet to be completed. I greatly appreciated the length of time given to complete all of the material.
---
Corey says: ⭐⭐⭐⭐⭐
I thought the course was excellent.  I enjoyed multiple exemplars that were presented throughout each module.  Think "seeing" it applied in other settings is super valuable if OBM/ABA is going to get a stronger following outside the traditional avenues.   
---
Jackie says: ⭐⭐⭐⭐⭐
I loved all the resources given.  I thought they were great and I will use them in my current position. I liked that the main course material could be completed at my own pace as I have a full-time job and a family. I often completed items on the weekend or late evenings.
---
Kristine says: ⭐⭐⭐⭐⭐
Embed and the Sustainability Checklist was of the most value for me.  I loved seeing Jose Martinez Diaz in the rocket ship as I was on a panel with him, and over the years engaged in many smiles with him. I have never self-paced a college course before, so it allowed me to learn best in my own personal way. The interactive components in the modules were outstanding.  I wish there was even more of those.
Special Pricing: $895  $650
Continuing Education: 21 BACB Learning CEUs, 3 of which may be used as Supervision CEUs
Student Toolkit: This program comes with a fillable PDF toolkit that includes content and tools that follow our SPACE (Scope, Pinpoint, Assess, Change, Embed) Model for applying OBM.
Free Performance Diagnostic Checklist Download!