Registered Behavior Technician® (RBT®) Training 2.0
Behavior Essentials is a 100% online and self-paced training program for individuals seeking the Registered Behavior Technician® (RBT®) credential from the Behavior Analyst Certification Board (BACB®).
As leaders in online behavior analytic education, Florida Tech ABA Online and ABA Technologies, Inc., help students learn and succeed. Our newly advanced and integrated technology allows students to seamlessly move through the course and their learning management platform where they will watch videos, participate in activities, and assess their competence. RBT® Essentials 2nd edition takes advantage of these interactive features to present a comprehensive course to prepare students for the RBT® exam. Florida Tech has a long history of training BCBAs, BCaBAs, and BCBA-Ds, many of whom score above-average on BACB® exams.
Built with busy professionals in mind, RBT® Essentials is an interactive, competency-based program that uses example scenarios, demonstrations, active responding, and fluency flashcards and drills to develop well-rounded RBTs®. Course developers and instructors are experienced BCBAs who also teach in our ABA Online BCBA/BCaBA course sequence.
This entry-level course prepares students to apply the fundamentals of behavior analysis in diverse settings. The training is appropriate for parents, teachers, direct-care staff, and individuals working with persons with autism or developmental disabilities. RBT® Essentials is based on the Registered Behavior Technician Task list, meets the 40-hour training requirement for the RBT® credential, and is offered independent of the BACB.
Discover everything you need to know to be successful in your role as an RBT®.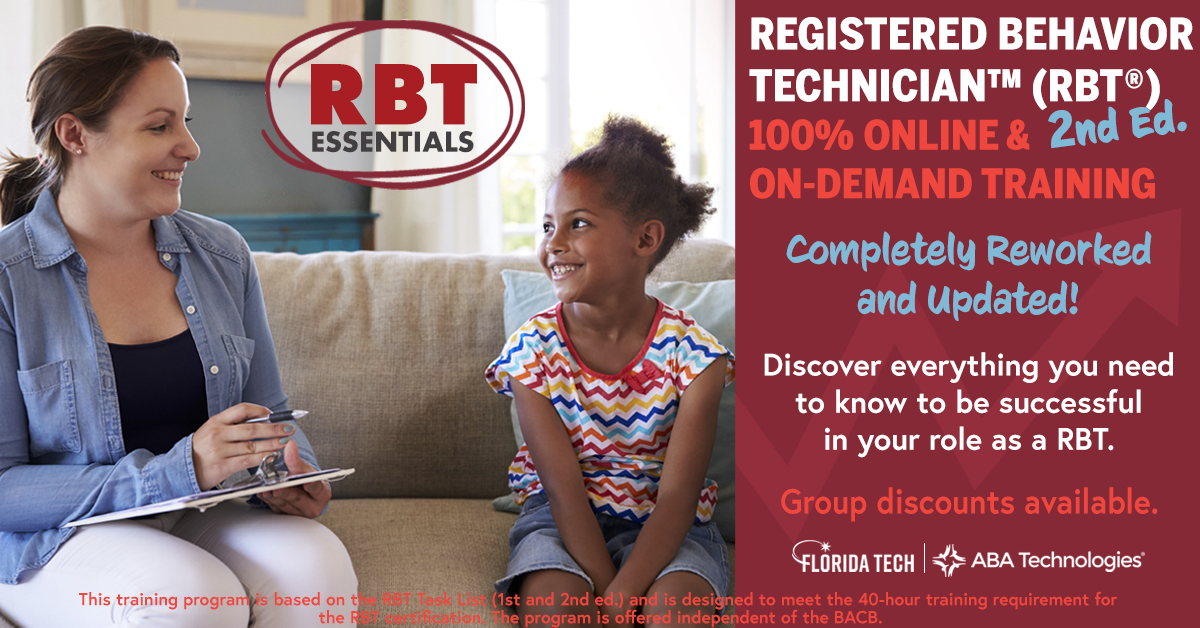 RBT® TRAINING
100% Online & On-Demand Training in English & Spanish
Price: $149
Company Rewards Program: For more information on how a company can earn free seats and special discounts, please email abareg@fit.edu and ask for information on the RBT® Rewards program
Time Limit: 180 days
Continuing Education: 40.0
This training program is based on the RBT® Task List (2nd Ed.) and is designed to meet the 40-hour training requirement for RBT® certification. The program is offered independent of the BACB. This course provides only the 40-hour training.
Brought to you by:

RBT STUDENT 2020
I just wanted to drop in and say THANK YOU to all of my instructors. I took the RBT® exam today and passed and was more prepared than I thought. This course has been constructed very well to prepare someone for the exam. I used the B quizzes and final assessment to help me prepare for the RBT® exam. I am a terrible nervous test taker and as I went through it I felt like I knew the material and given what I saw as multiple right answers, I could confidently answer which I learned was the best answer. So, just want to express my gratitude for the prep, effort, and time that goes into this course.
Q. What's included in the course modules?
A. The course includes the following:
Video lectures, demonstrations, and application activities to learn core principles.
Fluency-building flashcards and quizzes to master the language of ABA.
Competency quiz at the end of each module to check progress.
Emphasis on the RBT's® role in service delivery.
Two practice tests to prepare for the BACB® RBT® exam.
Improving Lives Through the Science of Behavior.
Stay up-to-date with new CEUs, special offers, blog posts, and more.