OBM Leadership Series
A Recorded Webinar CEU Series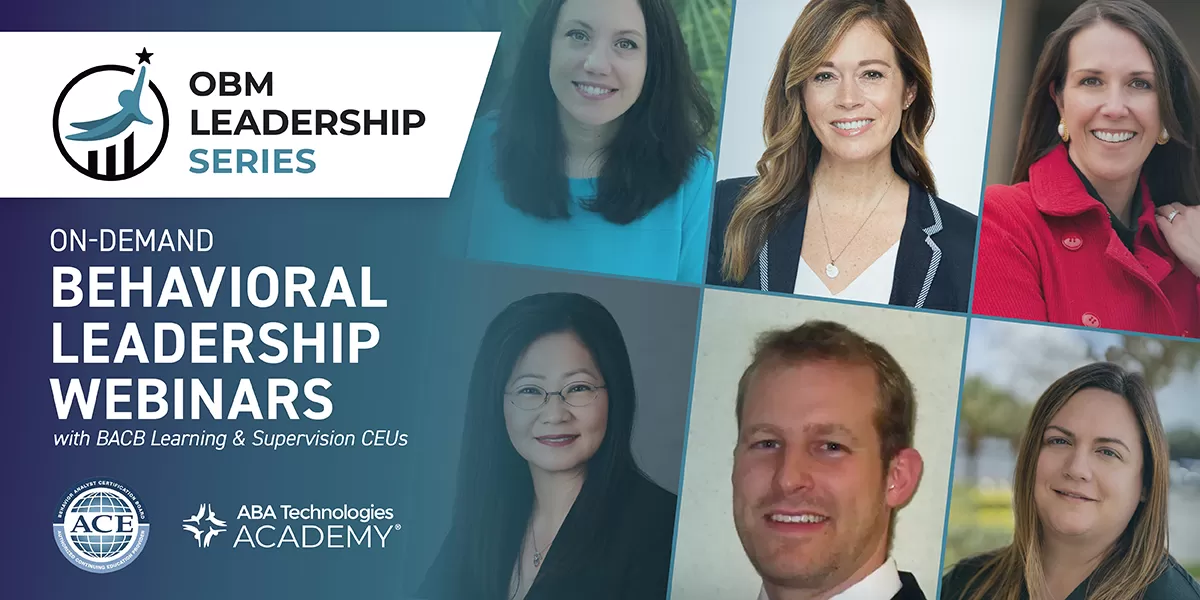 About the Course Series
Bringing OBM industry leaders together, this interactive series presents six skills-based topics leaders should master. How to be vulnerable as a manager and mentor, create employee engagement through business growth, manage yourself before managing others, and improve processes through shaping behavior. Take just a course or the entire series. Join us to learn what you can do to build the culture that will keep employees happy, engaged, and committed to your organizational mission.
Courses and Instructors
Dates for the Webinars 
Course 1: Embracing Vulnerability in Leadership: Lead to Empower in Supervision With ACT with Brenda J. Terzich-Garland, MA, BCBA
Course 2: Practical Strategies to Help Leaders Manage their Time and Work with Nicole Gravina, PhD
Course 3: Leading for Others: Improving Employee Engagement Through Growth with Kristen Williams, MS
Course 4: Mentor Leadership: Why Mentoring and Motivating Staff is Critical to Success with Alicia M. Alvero, PhD;
Course 5: Fostering Courage in the Workplace to Drive Change with Thor Flosason, PhD
Course 6: Managing and Improving Processes by Focusing on Behavior with Shannon Neely, MA
Q&A About the Recorded Webinar CEU Series 
I registered for the course, how do I get CEUs?
The webinar recording, CEU survey, and certificate will be available to you in the course. Login to the learning management system, enter the course for this webinar and follow the instructions to access the webinar recording. You must watch the entire webinar, and submit the CEU survey. Once you submit the CEU survey, the CEU certificate will automatically appear in your course, and you can download it.