8-hour Supervision Training for Qualified BACB Certificants
The 21st Century BCBA Supervision Course Series
Time: 8 hours, 29 minutes
Credits: 10 type-2 BACB CEs
Price: $99.00
REGISTRATION IS OPEN, ENROLL TODAY
The 21st Century BCBA Supervision Course Series is based on the BACB Supervisor Training Curriculum Outline (2.0) but is offered independent of the BACB.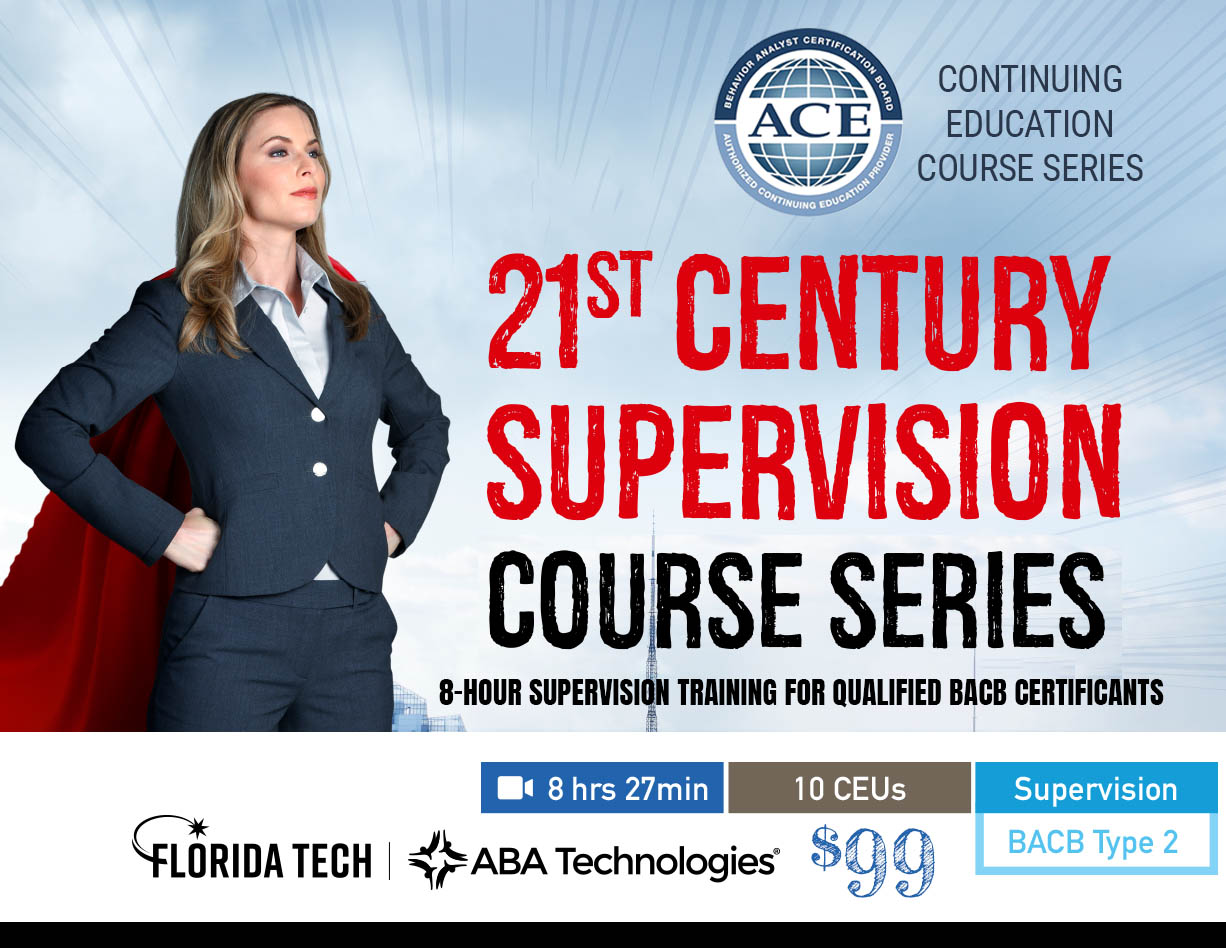 Supervision Training
Our comprehensive, 8-hour supervision training prepares practicing behavior analysts to supervise BCBA, BCaBA, and RBT® candidates. This training fulfills the seven content areas of the BACB's Supervisor Curriculum Training Outline 2.0. Expert instructors bring their personal and professional histories to the table and introduce tools and techniques to help make the most of the supervision experience.
Content Area 1: The Purpose of Supervision
Clients, families, and the broader field of behavior analysis experience the by-products of supervision—good supervision often leads to positive outcomes, while bad supervision can cause detrimental and even life-threatening risks. Content Area 1 focuses on using ethical practices to impact service delivery, client outcomes, and supervisee development. The dark sides of supervision are also explored.
PRESENTERS: Dr. Jose Martinez-Diaz & Dr. Allison King
Content Area 2: Important Features of Supervision
Several core features are important to the supervision process and help develop confident behavior analysts. Supervisors who master such practices are able to handle new challenges that arise during supervision, including potential legal issues. Corey Robertson introduces key considerations for initiating the process and establishing an ongoing supervision routine for BCaBAs and RBTs®. Examples of contracts and tracking sheets are discussed, both applicable to remote and live supervision.
PRESENTER: Corey Robertson
Content Area 3: Holding Effective Meetings
Meetings without a focused agenda or emphasis on the long-term outcome of supervision can be pointless and unproductive. With the help of meeting standards and monitoring and feedback tools, supervisors can avoid this trap, and instead pinpoint behavior and evaluate performance. This section pulls in organizational behavior management (OBM) tactics to create agendas and evaluation metrics to assess the behavior of a meeting chairperson. Empirical findings on holding effective meetings are summarized.
PRESENTER: Shauna Costello
Content Area 4: Behavioral Skills Training for Supervisors
Behavioral Skills Training (BST) is a well-known teaching protocol for establishing new behavior. Though often used with children, it is equally as effective with adults and helpful during the supervision process. Dr. Myers-Kemp introduces different modes of instruction and in-person and video-modeling strategies to teach and later monitor performance. She demonstrates how BST can be implemented with individuals and groups, while also using a pyramidal structure to increase efficiency and reduce training costs. Integrating technology to streamline the process is also discussed.
PRESENTER: Dr. Kristin Myers-Kemp
Content Area 5: Delivering Performance Feedback
Feedback is a critical element to improving performance, and when done well, it can mitigate problems early on. Supervisors often deliver performance feedback to trainees, supervisees and other staff members in their organizations, and must find opportunities to solicit feedback from others and reinforce it. Kelly Therrien offers participants a concrete feedback plan—based on OBM principles—to make feedback as painless as possible.
PRESENTER: Kelly Therrien
Content Area 6: Evaluating the Effects of Supervision
Evaluation is often neglected in ongoing supervision. How one evaluates a trainee and their own supervisory practices is essential to continual growth. Tom Freeman includes a worksheet with BACB recommendations on evaluating the effects of supervision practices, and how to examine client outcomes, supervisee behavior, and supervision fidelity measures. Reactivity reduction is also mentioned.
PRESENTER: Thomas Freeman
Content Area 7: Ongoing Professional Development
Behavior analysts are charged to stay current with best practices and emerging research. With countless professional development offerings available, the right path may seem daunting. Shauna Costello shares how one can pursue professional development on their own and model similar practices for their supervisees. She also encourages supervisors to create a learning community where continuous learning is valued.
PRESENTER: Shauna Costello
Knowledge and skills for effective supervision, ethical decision-making, and staff training.