From Boo-Hiss to Bravo: Performance Scorecards People Will Use and Like
NEW BOOK FROM JANIS ALLEN
Designing and implementing scorecards can feel very complicated and intimidating. The typical performance appraisal is Dreaded, Delayed, and Done under Duress!
Supervisors' least favorite and most procrastinated task can be transformed into an ongoing source of feedback and positive reinforcement, spearheaded by the employee.
This book is a how-to that includes 6-steps to successfully implement the performance scorecard with practical don'ts and dos for coaching and giving positive reinforcement.
These concrete tools work in all aspects of supervision and management, not just for the scorecard.
You'll put its practical examples to work for you the same day, and every day.
This book is a field guide for supervisors, managers, leaders, trainers, HR managers, consultants, and employees.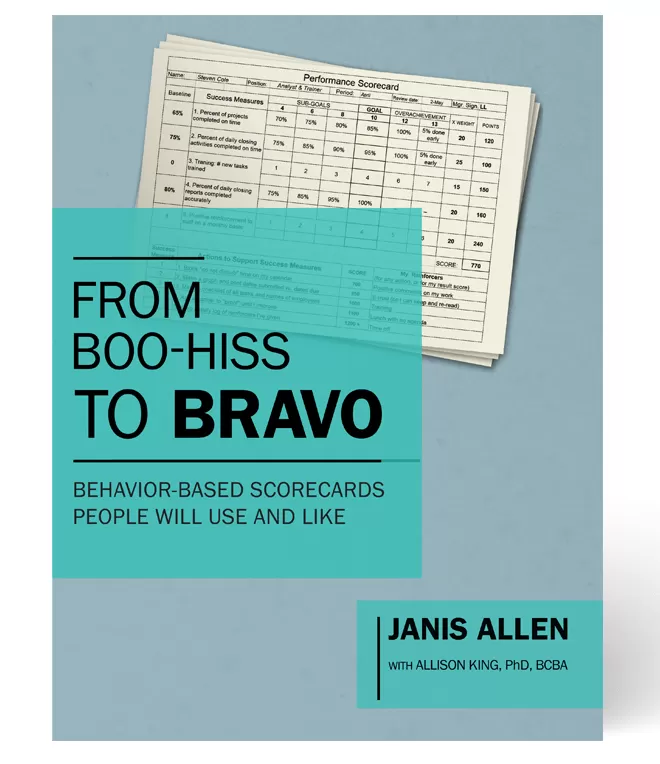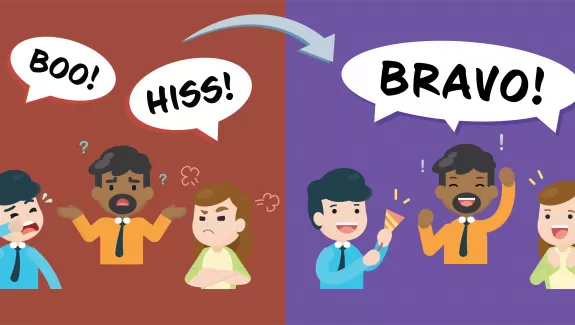 A blog from Janis Allen
FROM BOO-HISS TO BRAVO: BEHAVIOR-BASED SCORECARDS PEOPLE WILL USE AND LIKE
At the beginning of my career, I was one of those nagging HR managers whose responsibility was to get all the supervisors and managers in our manufacturing plant to complete annual appraisals for each of their (sometimes as many as 24) employees. The supervisors and managers hated to see me coming, ignored my calls, and hid from me as best they could. I didn't enjoy being the chaser any more than they enjoyed being the chased.
Operant Innovations Podcast
3 Quick Leadership Tips
Janis Allen
Janis Allen answers three burning questions regarding leadership skills (1) what do people think when they see you coming, (2) is there a recognition blackhole, and (3) should we use the sandwich method?
For more from Janis Allen on leadership, delegating, authority, employee engagement, and goal setting listen now!
Image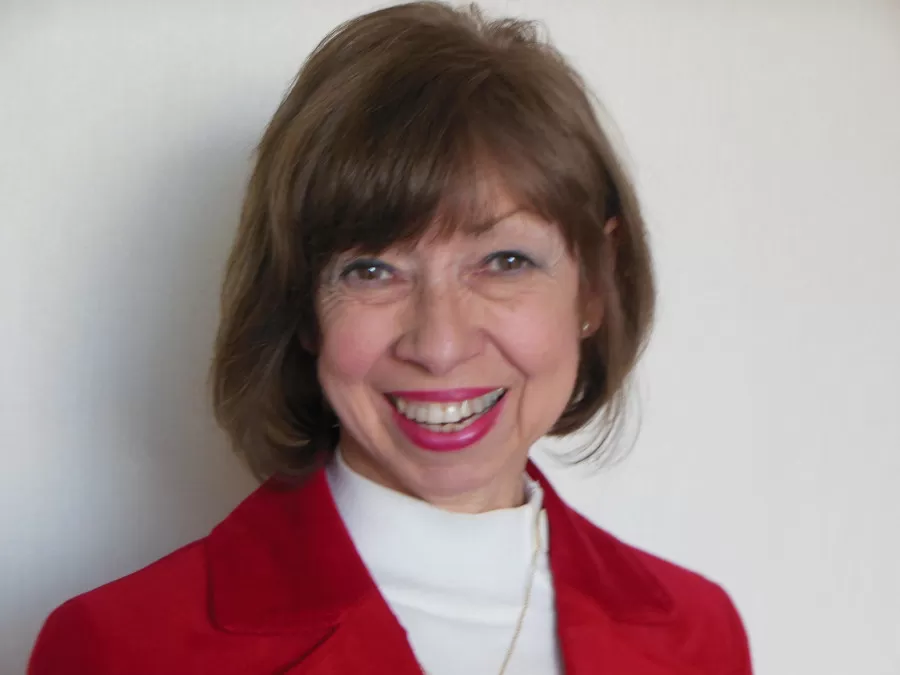 Janis Allen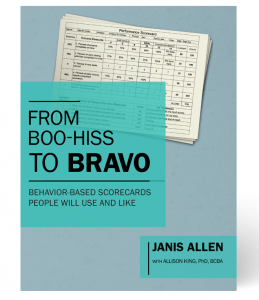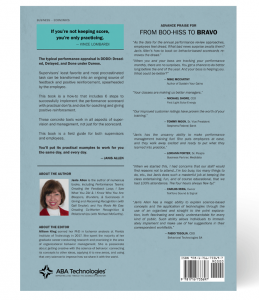 From Boo-Hiss to Bravo: Performance Scorecards People Will Use and Like
ABOUT THE AUTHOR
After serving as Vice President of Operations for Aubrey Daniels & Associates, Janis Allen formed her own business, Performance Leadership Consulting. Her practice focuses on people's performance and culture change with measurable improvement in productivity, quality, cost, and client satisfaction.
Below is a partial list of Janis's clients who have used some or all of the tools described in this book:
Amcor Flexibles
Atlas Precision Manufacturing
Banner's Cabinets
Blue Cross & Blue Shield
BMW Manufacturing North America
Champion Credit Union
Columbia Forest Products
Crane Resistoflex Manufacturing
Dept. of the Army Finance/Accounting
Eastman Kodak
Excelsior Packaging
FirstLight Solar Energy
International Paper
LifeSpan Services
Monsanto Chemicals
Morganton Pressure Vessels Mfg.
Philadelphia Electric
Qiagen Biotech
Stephens Federal Bank
Tindall Pre-Stressed Concrete Mfg.
Town of Maggie Valley, NC
3M
Transylvania Regional Hospital
United Airlines
University of North Carolina, Charlotte
Verizon Wireless
Volvo Construction Equipment
Wisconsin Gas
Xerox Corporation
Janis is also the author of several business books, including Performance Teams: Creating the Feedback Loop, I Saw What You Did & I Know Who You Are: Bloopers, Blunders, & Successes in Giving and Receiving Recognition (with Gail Snyder), You Made My Day: Creating Co-Worker Recognition & Relationships (with Michael McCarthy), and Ready? Set? Engage! Field Guide for Employees to Create Their Own Culture of Participation and Implement Innovative Ideas (with Michael McCarthy).
From Boo-Hiss to Bravo Top Ten Gems
By Russell Justice, November 2020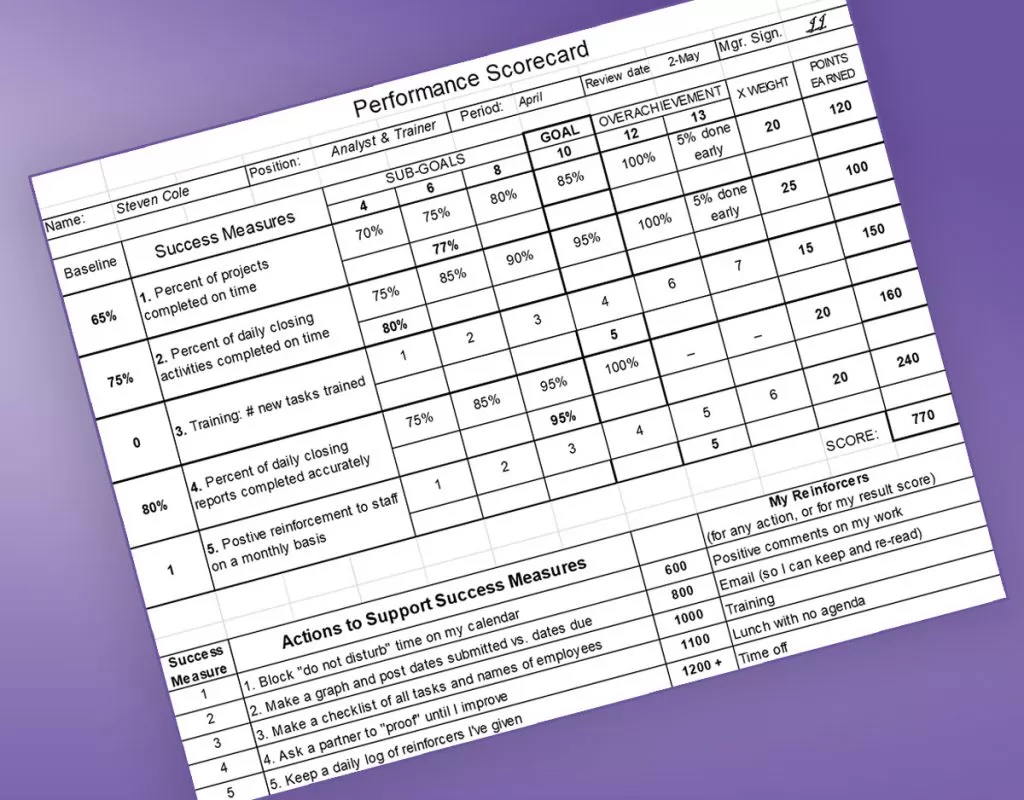 "Bottom-up" Scorecards (xvi)
Promising to use the first three months as a "doesn't count" trial with no negative consequences. (19) 
Be excruciatingly specific so the person will know exactly what to do again. (77)
Performance measurement isn't reserved for the end of the year or quarter but proudly tracked, posted, and achieved by the person most in control – the PERFORMER - the person whose performance is being measured. (xix)
We know the difference between reinforcement and gifts. Reinforcement is an action following a behavior intended to increase that behavior's frequency and strength. Gifts are actions or items given non-contingently – just because we want to do something good for someone, with no connection to behavior. (71)
Ask the person if he would like to teach someone the skill you've reinforced? (81)
The principle goes for tangible items: coffee mugs, t-shirts, hats, gift certificates, etc. When such things are not PAIRED (given together) with specific, personal comments about their behavior, they lose their reinforcement value. 
Use "positive gossip" (telling a 3rd person about an individual's good performance). (82)
Discovering what not to measure, which often happens first when setting goals. This experience leads us to the correct measure. (19)
Useful phrases for coaching to create and score. (57-58)
ACE Approved CE: Performance Scorecards
Instructor: Janis Allen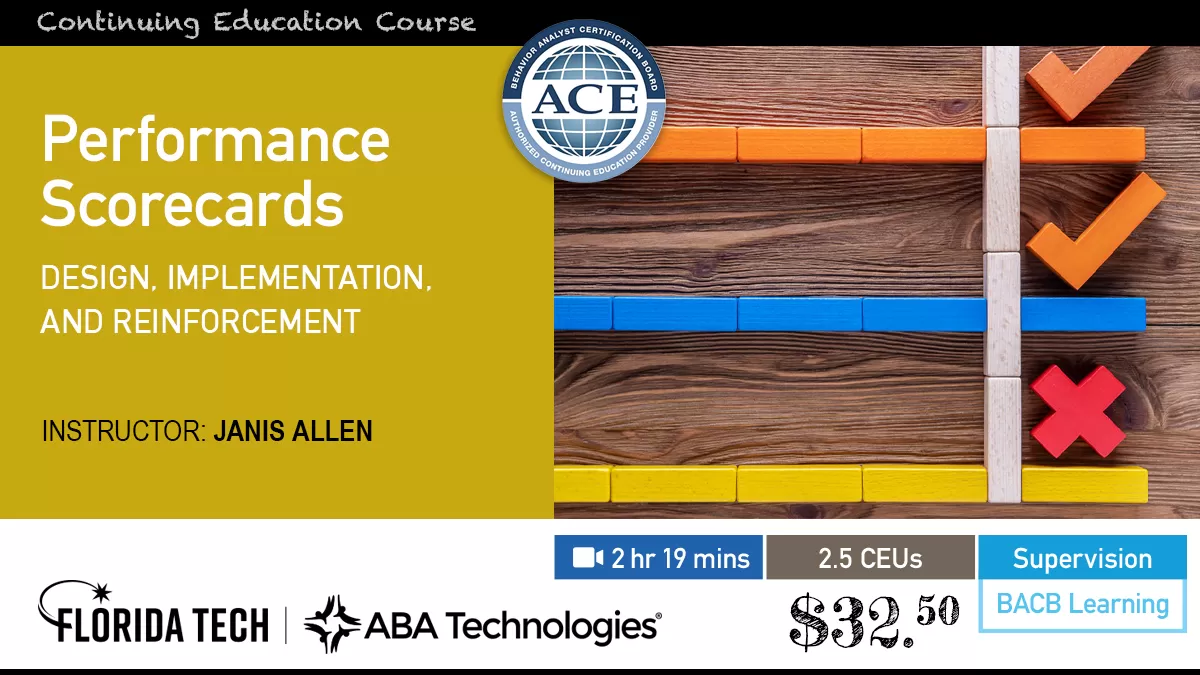 Time: 2 hour, 19 minutes
Credits: 2.5 Learning type-2 BACB CEs which can also be used for supervision
Presenter: Janis Allen, B.A. 
Course Description: Describes the development and implementation of the performance scorecard, an objective tool for conducting a performance appraisal. Key performance indicators for individuals are defined as the building blocks for the scorecard, which is created jointly by the supervisor and the appraisee. How to use coaching and positive reinforcement as essential elements in the implementation of the scorecard.
ACE Approved CE: Behavioral Techniques for Managing Your Time
Instructor: Janis Allen
 5 hours, 1 minute
 6.0 BACB, 3 credits towards Supervision
 Janis Allen
Course Description: The Behavioral Techniques for Managing Your Time series explains, from a behavior analytic perspective, our own behaviors and behaviors of other people that use time productively or waste time. To a large extent (much larger than you may think), you can control your time if you accept these two principles: 1. You can largely determine and limit the time you spend on specific tasks, and 2. You can influence how much other people's behaviors use (and perhaps waste) your time.
ACE Approved CE: Five Steps to Engage and Motivate Employees
Instructor: Janis Allen
 2 hours, 13 minutes
 2.5 BACB
 Janis Allen
Course Description: Struggling with employee motivation? In this course, Janis Allen describes the importance of engagement and motivation in organizations. She then outlines a 5-step process to motivate employees. She reviews the importance of reinforcement, covering what to do and not to do when providing reinforcement to employees. The course ends with additional tips to assess and inspire employee motivation. 
ACE Approved CE: Responsibility, Authority, and Delegating for Supervisors
Instructor: Janis Allen
 1 hour, 46 minutes
 2.0 BACB
 Janis Allen
Course Description: Struggling with delegation of tasks as a supervisor with insufficient time on your hands? Join Janis Allen in this course to learn how to responsibly delegate and assign authority to staff. Janis Allen teaches supervisors (new or experienced) how to pinpoint and measure the performances they are responsible and accountable for delivering. Additionally, she proceeds to teach methods to clarify the authority they have to make and implement decisions. Lastly, she discusses how to develop their supervisees by teaching them new tasks and coaching them to become successful in performing those tasks.