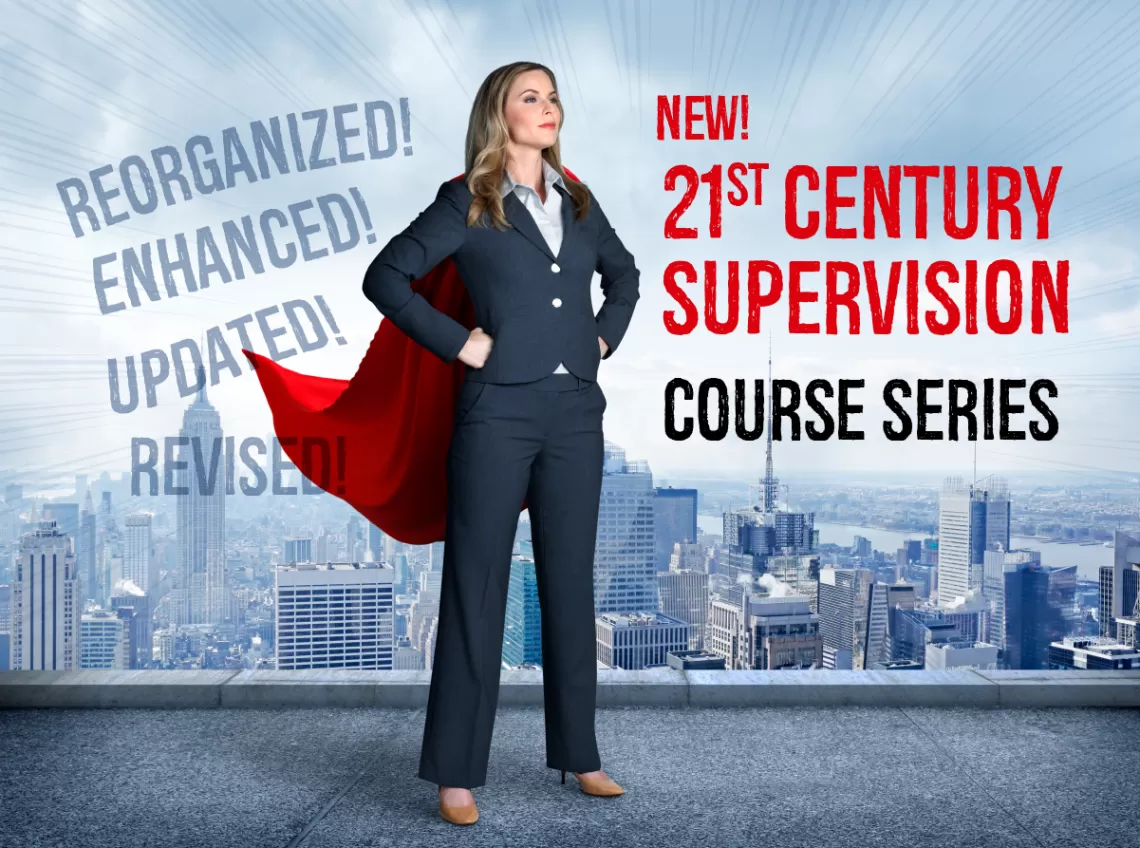 21st Century Supervision Skills for Behavior Analysts
The New 21st Century Supervision Course Series
We are pleased to offer an updated and improved 8-hour supervision course for behavior analysts based on the BACB's newest Supervisor Training Curriculum Outline 2.0. The new outline goes into effect in November 2019. With a team of seven dynamite behavior analysts, the 21st Century Supervision Course Series presents a comprehensive account of tried-and-true tools for effectively supervising RBTs, BCaBAs, and BCBAs.
As the Field Evolves
The behavior analyst's role is constantly changing, and so too are the requirements of the Behavior Analyst Certification Board (BACB). Occasionally, the BACB changes rules and requirements which impact behavior analysts' knowledge and skills requirements. Two years ago, ABA Technologies, Inc. and Florida Tech produced an 8-hour supervision course titled, "The 21st Century BCBA Supervision Course Series," based on the BACB's original Supervisor Training Curriculum Outline. Dr. Jose Martinez-Diaz predicted that the course would be updated again in two years. He was right, so here we are!
High-Level Overview
In our course, real-world stories and examples guide participants through the key principles and applications of OBM, clinical services, and instructional design. Active learning techniques—pause-reflect-and-write type activities, multiple-choice questions, and handouts—are used throughout to promote engagement and mastery of content. Participants will leave feeling more confident to take on their supervisory role. For more on the new outline, read all about it in the December 2018 BACB newsletter: Supervisor Training Curriculum Outline 2.0. It is
. . . revised, enhanced, and reorganized to emphasize content relevant to the ongoing supervision of RBTs and BCaBAs, and the supervision of trainees. (BACB,  2018)
About the Course
The Purpose of Supervision
In section one, Dr. Jose Martinez-Diaz and Dr. Allison King provide the overarching rationale for quality supervision and the adverse effects of bad oversight. Dr. King helps participants create their unique mission for being a supervisor and shares critical learning objectives, tasks, and considerations from the Supervisor Training Curriculum Outline 2.0. Dr. Martinez-Diaz addresses the ethical and professional aspects of being a good behavior analytic supervisor, and how this impacts service delivery, client outcomes, supervisee development, and ultimately the profession as a whole. He shares engaging stories and examples from his lifetime of work as a behavior analyst that model the changing experiences of behavior analysts as they grow in their career.
Important Features of Supervision
Corey Robertson covers the important features of the supervision process, including potential legal issues, supervisor requirements, and special considerations for new BCBAs and BCaBAs. Remote versus live supervision options are also compared, and Corey uses example contracts and tracking sheets to help simplify the process.
Holding Effective Meetings
In the third section, Shauna Costello presents a roadmap for facilitating effective supervision meetings—a critical component to developing solid supervisor-supervisee relationships. Using research from OBM and offering tools to create agendas and evaluate meeting effectiveness, Shauna pulls together empirical findings and real-world examples to point to the overall functions and strategies outlined in the course.
Behavior Skills Training for Supervisors
Dr. Kristin Myers-Kemp takes an in-depth look at Behavioral Skills Training (BST). She outlines each step and includes different methods of instruction to use in-person and with video modeling, and also describes performance monitoring strategies necessary to inform effective feedback. Dr. Myers-Kemp presents individual and group approaches and a pyramidal structure to increase efficiency and reduce training costs. She also explores the use of technology to implement training.
Delivering Performance Feedback
In section five, Kelly Therrien uses her OBM consulting expertise to apply behavioral science to one's communication skills as a supervisor. Kelly shares tools for delivering effective performance feedback to trainees, supervisees, and other employees; and she gives strategies for soliciting feedback and reinforcing one's delivery. Participants will leave with a better handle on how to use feedback as a supervisor to establish positive relationships.
Evaluating the Effects of Supervision
In section six, Thomas Freeman addresses an often-neglected aspect of supervision: an evaluation. How one evaluates their trainee and own supervisory practices is essential to continual growth. Tom includes a worksheet with BACB recommendations on evaluating the effects of supervision practices, while also looking at client outcomes, supervisee behavior, and supervision fidelity measures. He explores how one can reduce reactivity and increase the acceptability of being observed.
Ongoing Professional Development
Finally, in section seven, Shauna Costello explains ways to stay current with best practices and emerging research through ongoing professional development. Here, supervisors are encouraged to nurture the ongoing professional development of their supervisees by modeling their own path toward continuing education and fostering a community where learning is valued and continuous.
---
Get a head start with our new supervision course!