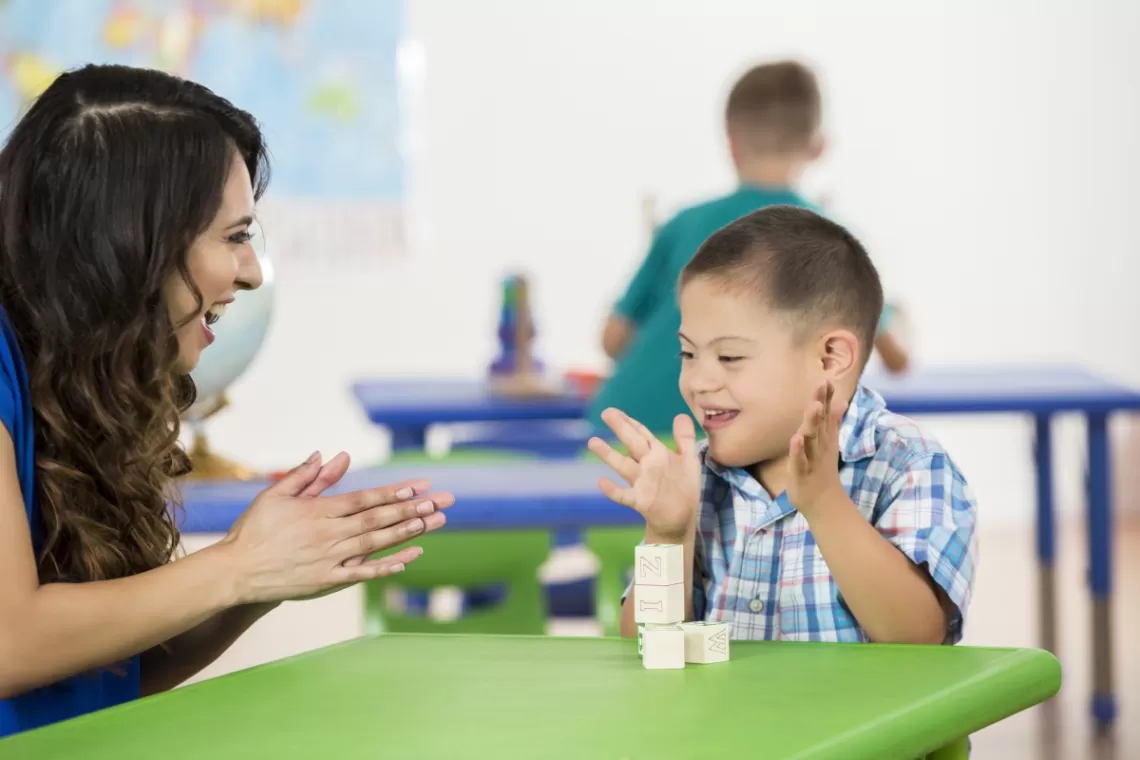 ABA Tech and Florida Tech Launches the 2nd Edition RBT Course
On July 23, 2019, ABA Technologies, Inc., and Florida Tech launched  RBT® Essentials 2nd Edition, a completely reworked and updated 40-hour training program. This "on-demand" course allows students to learn the required RBT® content while maintaining their busy work lives. In this blog, learn more about some of these changes and how you can register today.
What is an RBT®?
A Registered Behavior Technician® (RBT®) is a paraprofessional who practices under the close, ongoing supervision of a BCaBA®, BCBA®, or BCBA-D®. "The RBT® is primarily responsible for the direct implementation of behavior-analytic services" (BACB®). RBTs® work in a clinic, home, or school settings, and assist in directly implementing skill-building and behavior programs designed by BCBAs.
Changes to RBT® Essentials 2nd Edition
In December 2018, the Behavior Analyst Certification Board® (BACB®) released the second edition RBT® Task List—a document that describes the required competencies of an RBT® professional. Training programs are required to base their course content on this list. Changes go into effect in November 2019. And you can start now with Florida Tech's newly updated 40-hour RBT® training, which includes all 37 task list items from the second edition.
NEW: Second Edition Task List Items
In the second edition, task list items were either added, removed, or reworded. Here are the highlights: Tasklist items added: 
Task C-11: Implement shaping procedures. Task C-12: Implement token economy procedures. Task E-2: Actively seek clinical direction from supervisor in a timely manner.
Tasklist items removed: 
Task C-09: Implement stimulus fading procedures. Task C-12: Assist with the training of stakeholders (e.g., family, caregivers, other professionals). Task E-04: Comply with applicable legal, regulatory, and workplace reporting requirements (e.g., mandatory abuse and neglect reporting).
Tasklist items with new wording: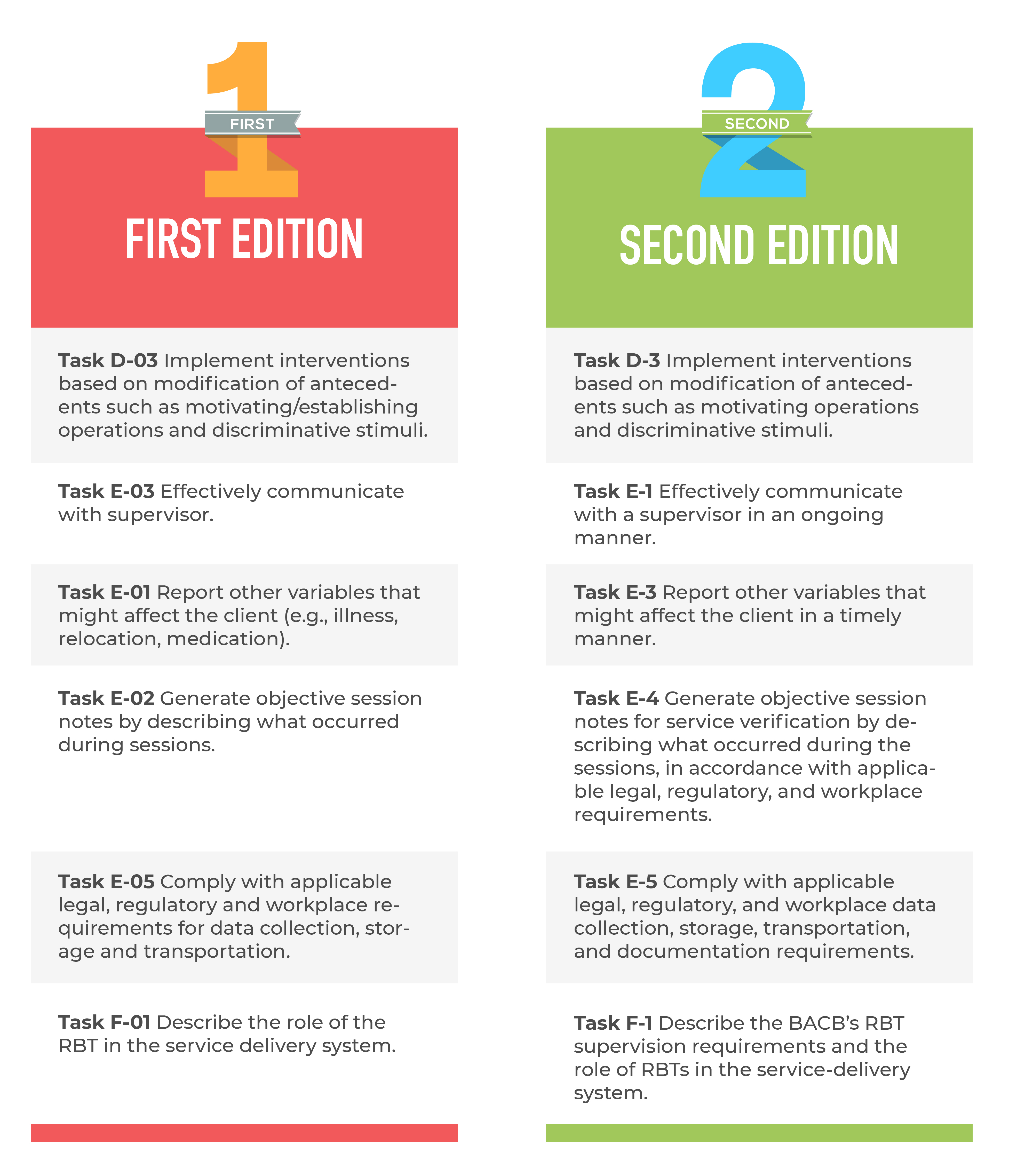 NEW! RBT® Ethics Code
Previously, certain elements from the Professional & Ethical Compliance Code for Behavior Analysts were applied to RBTs®. In December 2018, the RBT® Ethics Code was released to specify the RBT's® role and provide a clear code of ethics. The RBT® Ethics Code consists of three main areas that outline the ethical requirements and obligations of an RBT®: Responsible Conduct, Responsibility to Clients, and Competence and Service Delivery. Florida Tech's course thoroughly teaches and tests each of these areas, as they are critical to an RBT's® success.
---
Get Started!
If you are looking for a career change, want to learn more about applied behavior analysis, or are pursuing the RBT® credential, register for the refreshed—and completely aligned—RBT® Essentials through Florida Tech.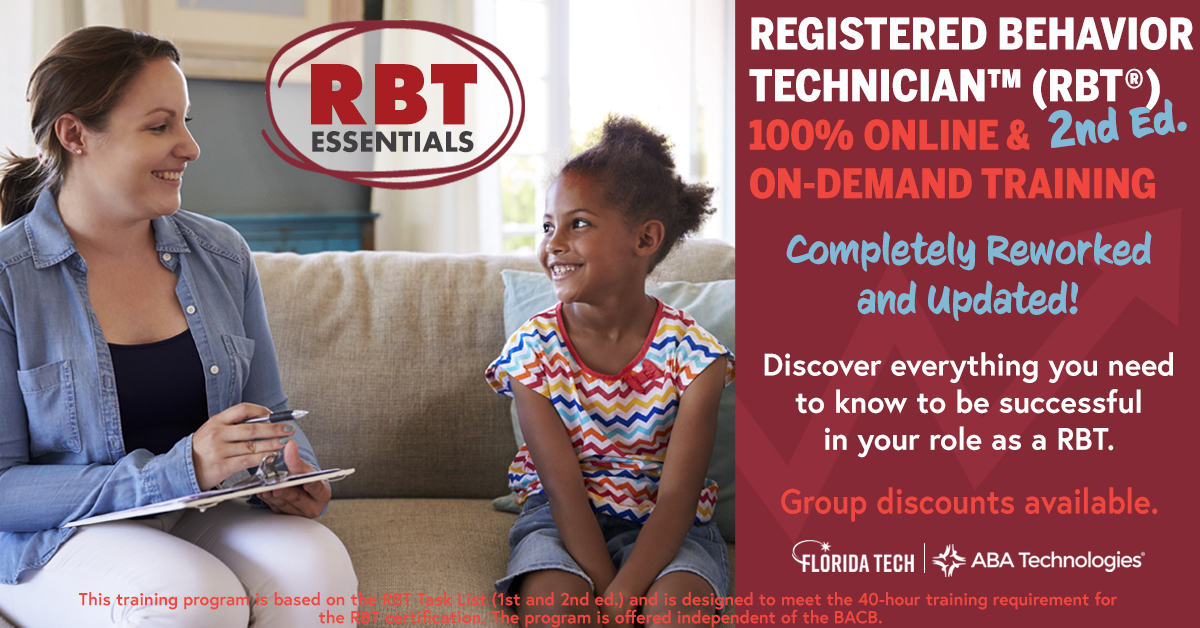 ---
About Florida Tech
As leaders in online behavior analytic education, Florida Tech ABA Online and ABA Technologies, Inc., help students learn and succeed. Our newly advanced and integrated technology allows students to seamlessly move through the course and their learning management platform where they will watch videos, participate in activities, and assess their competence. RBT® Essentials 2nd edition takes advantage of these interactive features to present a comprehensive course to prepare students for the RBT® exam. Florida Tech has a long history of training BCBAs, BCaBAs, and BCBA-Ds, many of whom score above-average on BACB exams.
*This training program is based on the RBT® Task List (1st and 2nd ed.) and is designed to meet the 40-hour training requirement for RBT® certification. The program is offered independent of the BACB.